I'm super excited about this giveaway.
The Hive Botanicals
is a really great Etsy shop full of wonderful things like soaps and lip balms. And best of all, all of their products are 100% cruelty free which I think we all can get behind.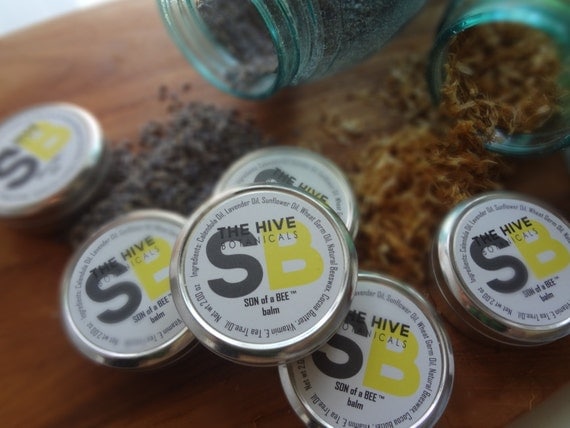 So what's up for grabs? One of their newest products: Son of a Bee Balm (kind of the greatest name ever)!

Son of a Bee™ Balm is an all natural blend of antioxidants to sooth your healing skin. Created as an alternative to petroleum-based jellies and lotions.

Can also be used on
• Brand new tattoos
• Red as a lobster sunburns,
• Grabbing a hot pan off the stove without a mit, kitchen burns
• Falling off your bike scrapes (which equates to the I'm a clutz, scrapes)
• Torturous winter cracked fingertips and heals
• Frankly anything else that has you utter "Son of a B" that could use some soothing

There are a ton of ways to enter so do one or do them all just make sure you don't miss out on a chance to win this awesome giveaway!

Best of luck everyone!
a Rafflecopter giveaway
Tiny Print: The giveaway will run until August 15th11:59 PM EST. The winner will be chosen at random by me via a random number generator. I will contact the winner in a timely mannor (be sure to leave an easy way for me to get ahold of you) and will post the winner on my site shorty after.