Today I thought it would be fun to talk about
jewelry,
more specifically
necklaces. I absolutely love necklaces but
unfortunately
I don't have much use for them when working on the house. That doesn't stop me from looking up lovely pieces online and
occasionally
buying them especially, if it's on sale, hehe. Here are some of my most recent
favorites
that I think would be lovely for a wedding.
(source)
This necklace is so wonderful, I really love the design. I almost get a Disney Princess vibe from it. Which is not something I would normally go for, but there is just something so interesting about it.
(source)
I'm a big fan of jewelry inspired by nature. I also really love how this necklace hangs, if you check out the source you will see what I mean.
(source)
I am seriously in love with the color right now, and I also really love all the fringe.
(source)
These colors are heavenly. It's so fun and playful and would totally add a nice splash of color to a wedding dress. I'm pretty sure this going to be my next necklace purchase :)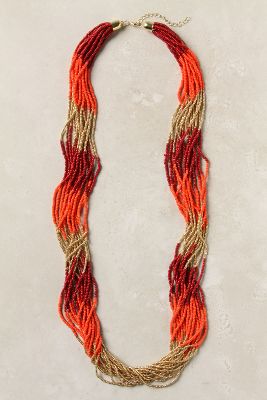 (source)
I think the reason I love this necklace so much is that it reminds me of the types of necklaces my mom used to wear. Does that ever happen to you? You see something that reminds you of something your mom used to wear, and you love it.
I asked my dad to take pictures of all my mom's jewelry and send them my way because I wanted to incorporate something that was hers in my outfit for the wedding. I have to say my mom has some really beautiful necklaces, and I cannot wait to try them on with my dress.
But as you can see I'm a fan of bigger necklaces/colorful necklaces, there is just something so fun about them I can't help it. What's your favorite type of jewelry/necklace?
Hope everyone is having a wonderful Saturday!
x's and o's
PS The kitty came back again last night! I think the can of tuna I left out for him had something to do with it, haha. But I got a better picture of him, so I'm a happy camper.